City needs to rethink Parkinson Recreation Centre Plan – letter on Castanet November 28 2022
The city needs to go back to the 2015 options anlysis report. Read why in my letter linked below:
https://www.castanet.net/news/Letters/398683/Rethink-rec-centre-plan
https://www.pentictonherald.ca/opinion/article_17a212aa-7282-11ed-b46d-1f64a46eb418.html
1333 Bertram Street, Kelowna –Letter on KelownaNow November 15 2022.
Susan's letter re: 19 storey tower at 1333 Bertram Street. This area is characterized by a mixture of single family homes and low rise (5 storeys or less) apartment buildings) which the Mission Groups' application letter describes as a leafy, quiet street. How ironic they removed every bit of tree cover and vegetation off the three lots and are constructing a huge building that will change the street from quiet to busy. The maximum for the area is 12 storeys which is too high – what does maximum mean? Here is the link to my letter on KelownaNow.
https://web.archive.org/web/20221115224019/https://www.kelownanow.com/watercooler/news/news/Your_Voice/Your_Voice_Approval_of_19_storey_tower_would_set_very_negative_precedent/
KelownaNow Letter October 26 2022 by David Buckna – Refers to Susan Ames
Mr. Buckna has a few words about me in his letter about the results of the election" "There will only be two women among the eight councillors when Kelowna's new city council is sworn in at their Inaugural Meeting (Nov. 7). The Liveable Kelowna group — made up of nine men and two women — ignored the candidate who is probably the most qualified person to be on council: Susan Ames, who has a PhD in Resource Management and Environmental Studies with a specialty in climate change, MSc in soil science, and BSc in biology. Ames has over 30 years experience as an environmental consultant in both agriculture and in the mining industry. She wants to see the return of the Citizens' Patrol program, and police having a regular beat in order to build relationships with residents in the various communities and business centres." The link to his letter is:
https://www.kelownanow.com/watercooler/news/news/Your_Voice/Your_Voice_Here_s_my_take_on_the_Kelowna_municipal_election/
VIDEO: One of Kelowna City Council's harshest critics seeks a spot at the table
"They used to call me 'that Susan person'," said Susan Ames. "That's me."
She's okay with her role as a 'thorn in the side' of the existing council.
And now she wants to be a part of it.
"I've spent a lot of time at council the last four years," she told KelownaNow, "with different issues."
As president of the Kelowna South Central Association of Neighbourhoods, she's become a regular feature when building projects get contentious.
"Hopefully if we get a whole new council that's full of energy and new ideas," Ames said. "We can all work together as a team and get some things done."
She's interested in seeing Kelowna develop in ways that are both socially and environmentally sustainable.
"I have a strong background in environmental science and sustainability," she added.
With the cost of housing at crisis levels, there is pressure for the city to approve projects simply to increase the supply side of the equation, but Ames said it has to be tempered.
"You may be building buildings for buidings' sake, but you're not building the right kind of housing," she said.
"Families don't want to be put up on the 34th floor."
Ames believes there are ways to build more housing that might not have stainless steel appliances and granite countertops, but is suitable and affordable.
"Think about the families, and people and children," she said. "Where are they going to play?"
Ames has a vision for a greener, gentler, happier city.
"We need to have the vision to make this work for everybody," she said.
Susan Ames slogan is Ames for Change.
Election day is Oct. 15.
Stop the UBCO Tower! Public Hearing July 26, 2022 6 pm Kelowna City Hall Press release
UBCO has recently increased the height of their proposed downtown Kelowna tower to 46 storeys (160 m) from their original plan for 35 storeys – a difference of 11 storeys or an increase of 31% in height. Ryan Smith, top city planner, describes this as "a little flexibility in the final overall height" (Daily Courier June 14, 2022: UBCO stretches out 'vertical' campus plan).
The increase to 46 storeys is to obtain additional residential units. The staff report stated that this type of density would not normally be supported for private development. This project is being presented as a UBCO downtown campus even though less than 20% will be for academic use and the remaining 80% will be for commercial and residential housing.
Kelowna's 2040 Official Community Plan (OCP) signed off by council in January 2022 set the maximum to 26 storeys for the city (C7 Map A), so this proposed height of 46 storeys is 20 storeys (approximately 200 ft) higher than permitted.
To achieve the increase in height, a Public Hearing will be held at 6 pm July 26th, 2022, to change the zoning to CD28 from C7. Commercial schools such as UBCO are a "Principal Use" in C7 zoning so this change in zoning is not required and the 10 storeys of academic use can easily fit into the 26 storeys permitted for this area with room to spare.
There are so many issues with this project that aren't presented …where will the excess water be pumped to, to construct 4 levels of parking below the lake level? Is it feasible? Where will four levels of excavated material be dumped? What will be the impact of a 46-storey tower on our sewage treatment facility? What is the impact on shading of the area? What will happen to the vacant units between May and September? What is UBCO's plans for these? What is the impact of paving the footprint except for a sliver of green space on St. Paul and Doyle in terms of surface runoff, lack of green space, the heat island effect? And on it goes.
The city has approved in the last several years, tower after tower in downtown Kelowna that required a height variance. However, this modern 46 storey tower which will be 80% non-academic may be approved because it is UBCO. This is just another predominantly residential building which will loom over the city in all directions. This height is so extreme that it is time to say stop. The towers are getting higher and higher, and this modern, extremely high tower is nothing short of a monstrosity. The downtown belongs to all communities from Glenmore to Rutland, to central Kelowna to the Kettle Valley area. This is not the time to turn a blind eye and to be complacent. Action is required by all residents, or this will be approved and more of this will follow. Attendance at the Public Hearing is critical and letters to the mayor and council are extremely important. More information will be available Thursday, July 21 at 7 pm across from City Hall. Stop this UBCO Tower! The sky is not the limit… Susan Ames July 20, 2022
Stop This Tower! Campaign launched against UBCO's downtown Kelowna highrise
Susan Ames is trying to get the UBCO downtown campus reduced in height.
Image Credit: Submitted/Susan Ames
Calling it a "pretend university," Kelowna resident Susan Ames is launching a campaign against the proposed 46-storey UBC Okanagan downtown "vertical campus."
Ames is president of the Kelowna South Central Association of Neighbourhoods but is not speaking on behalf of that group. She is, however, planning to run for city council this fall.
"I'm trying to get people aware of what's going on down there and, hopefully, they'll speak up and write some letters," Ames told iNFonews.ca. "What happens is city council says: 'Nobody is interested. We didn't get anything so we'll just go ahead.' But this is such a serious one. It's really a monstrosity. It's really excessively high and it doesn't fit into Kelowna at all."
The original proposal was for a 34-storey tower.
The Mission Group has proposed a 17-storey office tower and 30-storey residential tower next to it on land that was formerly the Kelowna Daily Courier property.
READ MORE: UBCO's downtown Kelowna campus to be the tallest in city at 46 storeys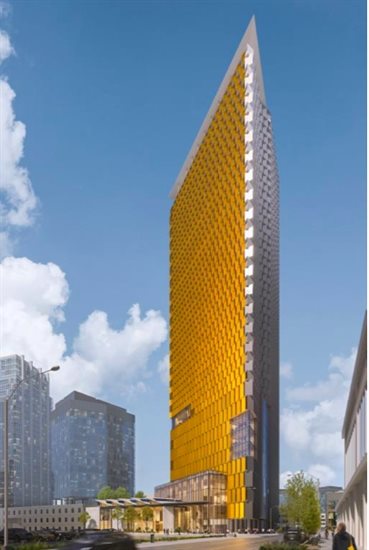 The proposed UBCO tower.
Image Credit: Submitted/City of Kelowna
The city recently adopted a plan that calls for a maximum height of 26 storeys. Ames thinks it should stick to that plan.
UBCO is asking the city to adopt a special zone for what it calls a vertical campus that will allow the increased height. That goes to council today, July 26.
Ten storeys are planned to be part of the university but most of the rest will be residential, some of which will be for students.
"They say they're allowing 46 storeys because it's UBCO," Ames said. "Well, it's a UBCO apartment building. Call it what it is."
In fact, the report that's going to a public hearing next week, does say just that.
"This type of height and density would not normally be supported for private development," city planner Trisa Atwood wrote in her report to council. "As such, the creation of a CD zone was deemed most appropriate to creatively and collaboratively meet the unique project objectives."
Ames will be across from City Hall today, July 21, at 7 p.m. trying to rally support.
Already the city has approved a number of buildings that exceed its maximum height guidelines, including the newly-finished One Water Street at 35 storeys and a 42-storey tower now under construction for the Water Street by the Park development on Leon Avenue.
At some point, Ames argued, city council has to start following its own plans and limit how high these downtown towers are built.
She's also opposed to the nearby tower proposed for the old RCMP site just a couple of blocks away, also on Doyle Avenue.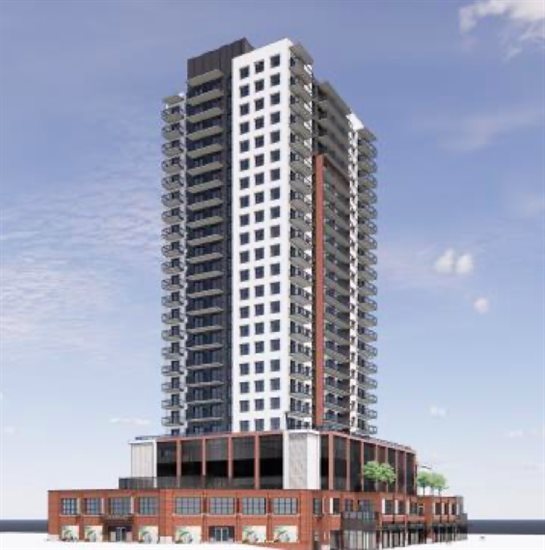 Proposed 25-storey tower on the former RCMP site downtown.
Image Credit: Submitted/City of Kelowna
That's going to council on Tuesday for a development permit, the final stage before a building permit allows for construction to start.
It was proposed for 13 storeys but was redesigned at 25 storeys after neighbours complained it was too wide and would block views
READ MORE: Redesign of tower on former Kelowna RCMP site grows to 25 storeys
"It really is a community amenity," Ames said of that site. "It's better, really, to start in putting community centres and things for the people."
That project includes a 6,000 square foot public space, will extend the city's downtown art walk and build a civic plaza.
---
To contact a reporter for this story, email Rob Munro or call 250-808-0143 or email the editor. You can also submit photos, videos or news tips to the newsroom and be entered to win a monthly prize draw.
We welcome your comments and opinions on our stories but play nice. We won't censor or delete comments unless they contain off-topic statements or links, unnecessary vulgarity, false facts, spam or obviously fake profiles. If you have any concerns about what you see in comments, email the editor in the link above.
News from © iNFOnews, 2022
PUSHING BACK AGAINST TOWER
KSAN president rails against UBCO tower, says 46 storeys is way too much
PUSHING BACK AGAINST TOWER
Wayne Moore – Jul 21, 2022 / 4:00 am | Story: 376535
Photo: UBC Properties Trust
The City of Kelowna is going down the wrong road if it endorses a proposal from UBC Okanagan to build a vertical downtown campus that could reach up to 46 storeys.
That plan will be on the table when city council sits down for a public hearing on Tuesday night.
"This one is just too much for me," says Susan Ames, who also serves as president of the Kelowna South-Central Association of Neighbourhoods (KSAN).
"Our neighbourhood is south of Harvey so it's not a (KSAN) issue, but this has got to stop. It's 46 storeys and the maximum height is supposed to be 26 in Kelowna that's stated in the brand new 2040 Official Community Plan council just signed in January."
She questions the sense of an OCP and height regulations when the goalposts keep moving.
Ames says she will be in attendance at Tuesday's public hearing and hopes others will join her. She will be set up Thursday night at 7 p.m. at Stuart Park across from city hall to try and drum up support.
Ames questions the need for such a tall building, suggesting only 11 storeys are university related with the other 35 dedicated strictly to housing.
"It's not all student housing," she claims.
"They are going to have 500 units. If they don't have 500 students to fill it, what do you think they are going to do? They are going to rent it out.
"And, what's going to happen when the students are all gone in the summer? It's going to be short term rentals."
VIDEO: Neighbourhood association says UBCO's 46 storeys is way too high
"It's basically a monstrosity," said Susan Ames.
"It's way too high for the city."
Ames is the president of the Kelowna South Central Association of Neighbourhoods, and she's out to stop UBCO's plans for a 46-storey vertical campus in Kelowna's downtown.
"It will loom over everything and it doesn't fit into the city of Kelowna."
Ames wonders about the value of the official community plan process when it can be so quickly abandoned.
Photo Credit: NowMedia
"It's 20 storeys higher than the maximum height allowed in Kelowna with the 2040 Official Community Plan that was just signed in January."
She said it sends a confusing message to builders.
"How can a developer plan if they change the goal posts all the time," added Ames.
Photo Credit: NowMedia Susan Ames, KSAN
Her remarks come a day after KelownaNow spoke with Terry Barton from the city's planning department.
Barton and his staff are recommending council go ahead with the rezoning required to accommodate the 46-storey skyscraper.
"We see this as the next wave of the revitalization of the downtown," he said.
And Barton acknowledged the fact that the applicant is an institution of higher learning plays a role in that.
"We think it sends a very strong message that our tallest building in the city would be an academic UBC building," said Barton.
But Ames points out that most of the building would be for housing, not learning.
"It's 46 storeys of building and only ten storeys are actual academic."
Ames said there's plenty of room for student housing at the main campus.
"What I think they should do is stick to the zoning of 26 storeys and take that money and build more housing at UBCO where all the campus is," she said.
Ames is urging people to come out to the public hearing on the rezoning which is Tuesday night.
"I think it's time for the people of Rutland, Kettle Valley, Central Kelowna, Glenmore to speak up," she said, "and say this is your city and it's time to put the brakes on this excessive development."
The Kelowna South Central Neighbourhood Association will be gathering tonight at 7 pm to oppose the plan, along with the 26-storey development planned for the former RCMP building.
Photo credit: City of Kelowna
Both rezoning applications go to public hearing on Tuesday, July 26.
Ames says the building is ultimately too tall, too modern and too glassy, adding it looks like something that better belongs somewhere like Shanghai, and not Kelowna.
VIDEO: Neighbourhood association says new official community plan threatens heritage
Heritage protectionists claim the City of Kelowna is poised to make a big mistake.
The Kelowna South Central Association of Neighborhoods believes the Official Community Plan, which goes to a public hearing tonight, poses a threat to designated heritage areas.
about:blank
"It opens it up to development for apartment buildings, rowhouses, commercial through the heritage conservation area," said KSAN spokesperson Susan Ames.
At issue is an area of the city that is described as 'core area neighbourhood' where multi-family housing is encouraged.
The map of that area in the OCP includes the Abbott Street and Marshall Street Heritage Conservation Areas.
"We'll start to lose houses," said Ames. "And we'll start to have apartment buildings in the middle of a heritage conservation area."
Photo Credit: KelownaNow Susan Ames, KSAN
Ames and her group have planted signs along Abbott St in an effort to boost public interest in the issue.
The project planner behind Kelowna's new OCP told KelownaNow the concerns are unfounded.
"Those statements are untrue," said Robert Miles. "The Official Community Plan continues to honour the heritage conservation area. It contains the same guidelines as the current OCP."
Photo Credit: KelownaNow Robert Miles, City of Kelowna Project Planner
Miles admits the 'core area neighbourhood' area can include fourplexes, townhomes and in some cases apartment buildings, but that policy guidance is always there to protect heritage areas.
"We have a specific policy that says 'we do not support apartment housing in that area or stacked housing in that area'," he said.
Miles said staff would support single-family homes, perhaps some duplexes and smaller, less dense forms of infill.
Photo Credit: KelownaNow
But Ames remains uneasy with the heritage conservation areas considered part of that core area and all that comes with it.
"Once a home is gone it's gone. We don't want to have our heritage houses in a museum," she said.
Photo Credit: KelownaNow
The public hearing is scheduled for 6 pm this evening at City Hall.